Carte-de-Visite, circa 1876. Photographer:  J. F. Shoemaker, Warsaw, Indiana.
Price:  $18.00      Size:  About 2 and 1/2 x 4 and 1/8″

An adorable photo of Nora Ward, estimating she was about four years old in this picture. Love the stripes on the skirt and jacket, and I'm always struck by the quality of the clothing in antique photos.
We find Nora on the 1880 Federal Census for Silver Lake, IN:  Daughter of U. F.(?) and Ellen S. Ward. Nora was born in Indiana, about 1872, the fourth child of five. Siblings on this record are Laura, Charlie, Artemas and Mary. Their father is a physician. Further searches show the father's full name is Uriah Irvin Ward and mother's maiden name Giauque (possible French-Swiss origin). Nora grows up to marry a Mr. Gardner, and is living in Los Angeles in 1918, per Uriah's obit, below: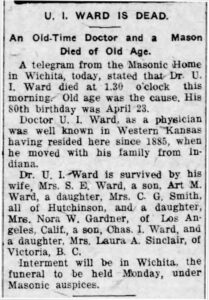 Sources:  Year: 1880; Census Place: Silver Lake, Kosciusko, Indiana; Roll: 290; Page: 211B; Enumeration District: 058. (Ancestry.com).
Directory of Deceased American Physicians, 1804-1929. (Ancestry.com).
"U. I. Ward is Dead." The Hutchinson News (Hutchinson, KS). May 17, 1918. Friday, p. 8. (Newspapers.com).
Marriage Records. Ohio Marriages. Various Ohio County Courthouses. (Ancestry.com).