Vintage photos, circa 1940s – 1952, deckled edge border.
Price for the set of two:  $15.00
"French and guide at launch place"  or possibly "at lunch place." That is probably French Waterman on our left and either his unidentified fishing guide, center (or, if some humor was employed in the description, French's dad, Warren…just a possibility, no assumptions.) On the canoe bow, we see what may be the manufacturer logo of a circle and one wing. Maybe someone familiar with vintage canoes will recognize it. (Click on the image to enlarge.)

French is John French Waterman, born about 1904 in Tennessee, younger son of Warren Gookin Waterman, Sr., born in Southport, Connecticut 1872 and died in Frankfort, Michigan 1952 and Anna (Hannah Meuller) Waterman. Warren, Sr. may have taken the shots (we hope, or was in the top one, even better, but either way, these photos seem to be a remembrance from a nice father-son trip!) and written on the back, along with stamping his address at that time:
"W. G. Waterman, Riverbend Farm, Frankfort, Michigan"
French Waterman at Goulais Lake Camps, Algoma County, Ontario. There's French, we believe, on our far right, blending in a little with the background. In the center, nestled in the pines, one of the sixteen guest cabins. Here is Goulais Lake from a Google map search.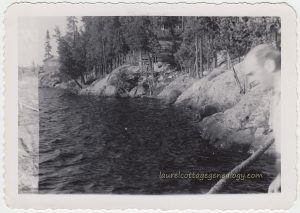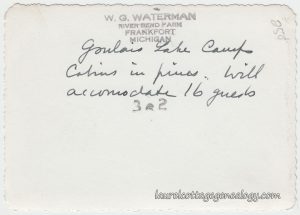 Sources:  Year: 1920; Census Place: Evanston Ward 7, Cook, Illinois; Roll: T625_358; Page: 10A; Enumeration District: 87; Image: 533. (Ancestry.com)
Original data: Michigan, Marriage Records, 1867–1952. Michigan Department of Community Health, Division for Vital Records and Health Statistics. (Ancestry.com)
Year: 1940; Census Place: Crystal Lake, Benzie, Michigan; Roll: T627_1730; Page: 2B; Enumeration District: 10-9. (Ancestry.com)
Goulais Lake, Algoma, Unorganized, North Part, ON, Canada. Google.com map search. Accessed July 2, 2017.
Find A Grave memorial# 36874914. Findagrave.com. Accessed July 2, 2017.