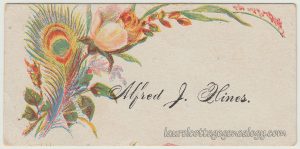 Calling Card. Circa 1880 – 1900.
Price:  $5.00
Flowers and a feather in orange and peach tones for this calling card…..
There will be multiple possibilities for who this card had belonged to……But wow, as it turns out, not as many as you'd think. City directories for a search anywhere in the U.S., that includes the middle initial, show much later records than this time-frame (1919 at the latest and that person in Saginaw was born too late to fit this card). Many hits that come up under all categories, and without the middle initial, can be eliminated right off the bat – either too young, too old, middle initial not matching, and duplicates – later or earlier records of the same person. We could spend days to really narrow it down, but won't, believe me, that would be really too much! (But yes, it is always tempting.) So, maybe the three best possibilities are:
Alfred John Hines, born December 17, 1867 in Wolcott, CT. His obituary states he was educated in the schools of Wolcott and Montpelier Seminary and married Agnes Conant in October 1901.
Alfred Joseph Hines, born November 13, 1873, PA. Lived in Cresson, PA, occupation clutchman? for P.R.R. Co. (Pennsylvania Railroad Company) per his WWI Draft Registration Card, in 1918. See if you can figure out what that says there: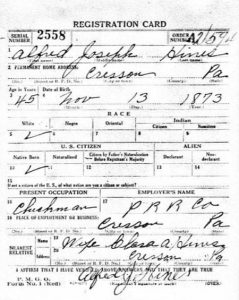 An interesting fact on the "Pennsy" Railroad:  By 1882, the company had become the largest corporation in the world, with a budget second only to the U.S. government.
Or had this calling card belonged to the Alfred J. Hines, who was married to Dorothy E., living in Rochester, NY, per the Rochester city directory, occupation engineer (but employer name not listed). We don't know the age of this Alfred J. Hines. Oddly, no census records were found on him.
Sources:  "Alfred J. Hines." Hardwick Gazette (Hardwick, VT). January 8, 1942, Thursday, p. 3. (Newspapers.com).
Registration State: Pennsylvania; Registration County: Cambria County. Ancestry.com. U.S., World War I Draft Registration Cards, 1917-1918.
Pennsylvania Railroad. n.d. https://en.wikipedia.org/wiki/Pennsylvania_Railroad (accessed January 3, 2021).
Drew Allis' Rochester Directory, 1919, Vol. 70. p. 518. Ancestry.com. U.S., City Directories, 1822-1995.