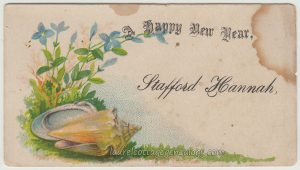 Calling card. Circa 1880s – 1900.
Price:  $12.00
The holiday cards are scarce right now at my house, for website posting that is. Haven't gone on any buying binges lately….then again it's nice to put up ones that have only been languishing in an (acid-free, of course) storage bin, without any attention…..;-). What I like about this one is that second comma. Kind of amusing, maybe a typo? Or maybe it was on purpose – so that Stafford could write a short note under his name, or have a space for a business stamp. Also, love the "face" in semi-profile, top right corner. Like a line drawing, with a little bit of shading, of a benevolent spirit. Of course, the shells and forget-me-nots are lovely….
On to Stafford Hannah…..a nice name, and not too common, for searching purposes:
As it turns out, there's only one Stafford Hannah that fits the time-frame for this calling card. He was Stafford Cross Hannah, son of Irish immigrants, James and Ann. He was born about 1852 in Manhattan and had older siblings Mary E., Martha J. and younger Ellen, Sarah and William. He worked as a ship carpenter and later as a grocer. His wife was Jennie, and they had two sons, William J. and Alexander. We imagine Stafford having many stories to tell his boys about the ships he worked on, due to the yacht-building mention in the obit, below: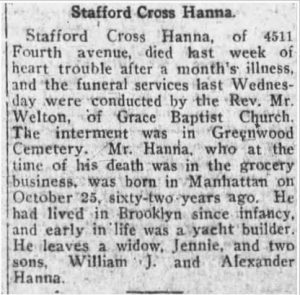 Sources:  Census of the state of New York, for 1855. Microfilm. Various County Clerk Offices, New York. (Ancestry.com).
Year: 1880; Census Place: Brooklyn, Kings, New York; Roll: 846; Page: 679A; Enumeration District: 102. (Ancestry.com).
1892 New York State Census. New York State Education Department, Office of Cultural Education. New York State Library, Albany, NY. (Ancestry.com).
New York State Archives; Albany, New York; State Population Census Schedules, 1905; Election District: A.D. 07 E.D. 20; City: Brooklyn; County: Kings. (Ancestry.com).
"Stafford Cross Hannah". The South Brooklyn Home Talk, March 25, 1914. Wednesday, p. 10. (Newspapers.com).