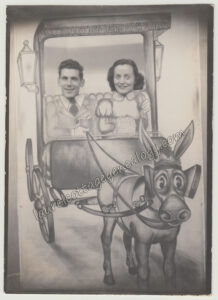 Old photo, circa 1940's.
Price:  $6.00              Size:  About 2 and 1/2 x 3 and 1/2″
These type seem to be generally referred to as "face-in-the-hole-board." Other names include photo cutouts, Aunt Sallys, peep boards, character boards, fat-lady-on-the-beach boards. This handsome and fun, young couple (out for a drive in the surrey – yep, surrey with the fringe on top 😉 ) look to be from the 1940's era. 
Sources:  Photo Cutouts. https://photocutouts.co.uk/blog/peep-boards-face-in-the-hole-boards-cutout-boards-what-should-they-be-called/ (Accessed June 10, 2023.)
The Surrey with the Fringe on Top. n.d. https://en.wikipedia.org/wiki/The_Surrey_with_the_Fringe_on_Top#:~:text=%22The%20
Surrey%20with%20the%20Fringe,jazz%20musicians%20to%20play%20it. (Accessed June 10, 2023.)