Divided back, unused postcard. Copyright 1913, Walker's Post Card Shop. Rochester, New York.
Price:  $5.00
Words of wisdom from E. C. March:
"Before you fool with a fool, be sure you have a fool to fool with."
The name E. C. March sounds like someone we ought to know, or maybe someone we've heard of in passing, a writer, humorist, poet….and perchance they were, but no references were found for them. So, possibly this wise person was just someone that had worked for Walker's Post Card Shop. The shop, according to ads found in Rochester's  Democrat and Chronicle, was a wholesale and retail venue for postcards, which also offered letters, folders, tags, seals and calendars. They were first located at 475 Main Street East, but by December 20, 1914, had moved to 30 Main Street East, across from the Hippodrome.
Below, from Rochester, New York's Democrat and Chronicle, August 21, 1909: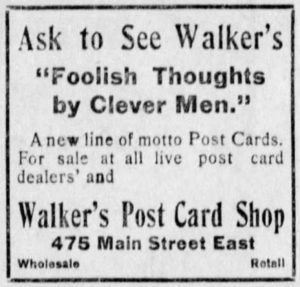 Sources:  "Ask to see Walker's 'Foolish Thoughts by Clever Men.' "  Democrat and Chronicle, August 21, 1909. Sunday, p. 18. (Newspapers.com)
"Walker's Post Card Shop." Democrat and Chronicle, December 20, 1914. Sunday, p. 26. (Newspapers.com)