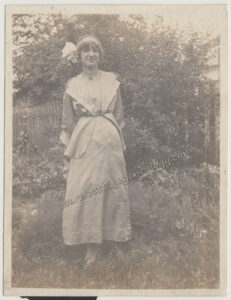 Old photo, white border. Circa 1910s.
Price:  $12.00           Size:  3 and 1/4 x 4 and 1/4″
When I come across photos like these, I wish I'd studied the history of fashion –  extensively. I'd rattle off all the particulars of this beautiful young woman's outfit. Not having done so leaves me feeling rather inept at describing, but to have a go at it – she's showing off a suit, perhaps handmade, the skirt hem falling above the ankles, along with a jacket with very wide lapels. Those extend up (with cutouts for shoulders) into a large collar in the back. (Or, maybe better to say an over-sized shawl collar with shoulder cutouts.) The jacket is tied at the waist, its lower portions are not meant to close, rather to fall openly below the hips. The young lady is posing with hands behind her back but you can detect lace – flowing and attached at the sleeves just below the elbows. Glancing up at the lapels again, a minor light bulb goes on:  Lace? Yes. Ahhh, (nodding head) the continuity factor. Normally we're happy with black and white photos (so elegant) but it would have been nice to see the colors in this one. (Fashion experts will likely know the material and be able to narrow down the hues.) Note the interesting subtle creases showing on the insides of both sleeves – I'm not sure if this was by design or had occurred with wear due to the type of fabric. To complete the look, our fashionable friend wears either a headband or hat, which blossoms out for a grand effect on one side, (love it) and a choker-type necklace with round pendant. Sometimes one gets lucky in finding an example in old newspaper ads of a searched-for style, so I looked there and elsewhere via Google. Luck was not found, precisely, but of interest, a very charming illustration of some more sedate versions of tailored womens' suits appearing in the Spring of 1915, (it was suit week at Scarborough's) in the Austin American-Statesman (Austin, Texas):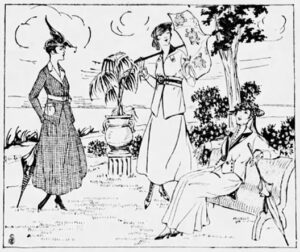 Source:  Austin American-Statesman, April 4, 1915. Sunday, p. 15. (Newspapers.com).