Old photo of the James Scott Memorial Fountain, Belle Isle, Detroit, Michigan. August 29, 1942.
Price:  $4.00               Size:  3 and 1/2 x 2 and 1/2″
Since we were in Detroit (Hamtramck to be exact) for the last post, here's a snapshot from 1942 of the James Scott Memorial Fountain. (Wonder if the guy who picked up his car at the factory stopped off to visit Belle Isle?) This thought conjured up the image of a scattering of hundreds of thousands of photos taken since the fountain's completion in 1925, some that didn't survive, but many resting in old photo albums and shoe boxes, and tons now in digital format (professional shots, wedding photos, group shots, selfies, etc.). Our photo above had made it out to San Francisco and was snatched up at the paper fair; a pocket-size repository of great memories of times spent on Belle Isle and the magnetic pull of a mini water-and-marble paradise.
Fountain Magic
Let's go see the fountain! All fountains have an enchanting quality, don't they? There's the beneficial negative ions from the water's spray, and if built into the design, the sheer beauty and whimsy and magic of characters so often depicted in fountain architecture, like the Scott's turtles with their attendant frogs, it's guardian lions with expressions so sweet you want to hug them (the lions, not their expressions, oh well, both), it's winged beasties with ram-like horns, it's devilish-looking water spirits riding happy fish….Surely too, we're soaking up magic from the form of the fulfilled dream and hard work of the architects and sculptors, (in this case Cass Gilbert and Herbert Adams) the often-haggling city council members, (the Scott's creation being controversial due to it's namesake's reputation; there's the statue of the man himself overlooking the whole scene) the general laborers (of course) in the construction; and then the magic reinforced by all of us:  the residents and visitors that have and will come to a fountain to cool off, dream, celebrate, recharge, marvel and leave inspired.
Update from the Detroit, July 2017 trip…a 1950s photo…Yours Truly, Bernice or Dagmar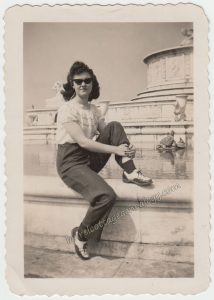 Source:  James Scott Memorial Fountain. n.d. https://en.wikipedia.org/wiki/James_Scott_Memorial_Fountain. (accessed June 24, 2016).