Real Photo Postcard. Postmarked February 17, 1910 from Hornbrook, CA.
Price:  $8.00
Addressed to:   "Mrs. May Wells. Dorris, California"
The sender wrote:   "Dear May card red thank you. this is a view just below the barn & I made it. I am not very well hope you and family are well. Ella"
Gosh, we hope Ella felt better very soon after she wrote the above! She did a good job with the photo. And it's nice to have the approximate location of this scene, (from the postmark) but I would have picked this card up regardless. Something about the silhouette of a tree always grabs me, and I'm forever taking similar shots only to look at them afterward and think that the photo didn't do them justice, but still. And how can it when we live in 3-D but our photography is not? Anyway, both Hornbrook and Dorris are located up by the Oregon border in Siskiyou County, map below. If you're like me, you've done a double-take on the county shape, it looks a little like Montana with a much larger "Idaho" on the left in lighter green.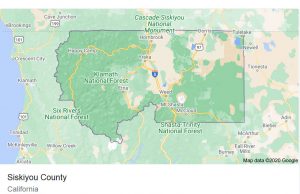 May Wells was Julia May (maiden name Osborn according to family trees), born about 1879 in Corning, CA. She married David Wells and they had a son, Ernest David Wells, born in 1908. May's obit was found online and appears below. (That should say Butte Valley, not Calley.)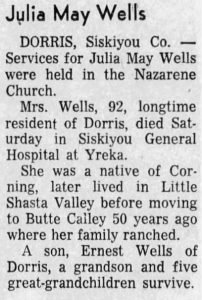 Sources:  Year: 1910; Census Place: Lake, Siskiyou, California; Roll: T624_108; Page: 11A; Enumeration District: 0111; FHL microfilm: 1374121. (Ancestry.com).
Siskiyou County, California. Map from Google.com search. Accessed December 12, 2020.
"Julia May Wells" The Sacramento Bee, October 14, 1971. Thursday, p. 25. (Newspapers.com).