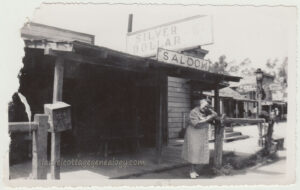 Old photo, deckled edge, white border. Circa 1930 – 1940s. Left corner and partial side missing. 
Price:  $2.00        Size:  About 5 and 7/8 x 3 and 1/2″
This looks like it's from one of those reenactment of the Old West type spots, or if not then just some other type of Western tourist attraction. (The backwards "N" in Saloon is a dead giveaway, right?) A few other similar views are showing up on eBay right now, but they have no i.d. for place either, though one has a date of 1959. Still, it's a fun picture – there's a lovely lady there, laughing and leaning on the hitching rail. ("Okay, pretend like you've had one too many. 😉 ) And, I like the old wooden….is that a U.S. Mail box? But hopefully one of our readers will know where this was taken!