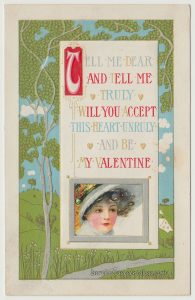 Divided back, embossed, unused postcard. Circa 1920s. Series or number 245. Publisher unknown.

Price:  $10.00
"Tell me dear

And tell me truly

Will you accept

This heart unruly

And be my valentine"
The leaves on the trees are all hearts!
This card is rather a beauty. The insert on the insert, so-to-speak, is really gorgeous, the colors, the woman's sweet expression, her soft scarf in folds up to her chin, the lovely hat, fashionable curls….Whoever the artist was, we appreciate them! Also, it has a winter-y look and that always goes well with the spring view behind it. I think this was a not uncommon theme, true, maybe inadvertently in this one, but displaying that feeling that we're still in winter but spring is just ahead.
Addressed to:   "Miss Edith Welsh, Port Vue, Pa."
Signed:   "from Lillie Hoak."
Lillie and Edith were neighbors, from the 1920 Federal Census for Port Vue, Allegheny County. Edith is Edith R. Welsh, born in PA about 1888, daughter of the widowed Genevra B. Welsh, and with younger siblings Nellie B. and George F. Welsh. House address 1700 Liberty Way.
Lillie is Lillie M. Hoak, born about 1905, also in PA, daughter of Leonard E. and Nancy Hoak, with older siblings Raymond H. and Clifford V. and younger sibling, Ella B. Hoak. House address 606 Liberty Way.
As for the publisher, I'm not finding them yet, the logo shows a capital B within a diamond shape, just very simple. Both the publisher mark and the distinctive "Post Card" design on the reverse were searched in Walter E. Corson's Publishers' Trademarks Identified, but a match was not found.

Source:  Year: 1920; Census Place: Port Vue, Allegheny, Pennsylvania; Roll: T625_1516; Pages: 19B and 20B; Enumeration District: 763. (Ancestry.com).