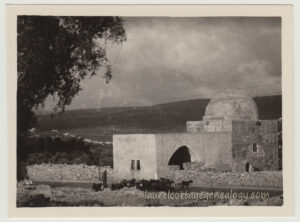 Old photo, white border. Circa 1910s – 1930s.
Price:  $5.00        Size:  3 and 1/4 x 2 and 7/16″
Continuing with sort of an archway theme from preceding posts…..In an unknown location, a goat herd directs his charges up the road.
We're guessing this scene was somewhere in the Middle East due to the architecture of the stone building with dome. (Tunisia comes to mind but I'm not too certain if the terrain matches.) And, perhaps this was a mosque however we don't see a minaret which would often be in evidence. We can see that there's been some additional work on the building:  a half-circle arch was filled in with stone (a lighter color or less weathered by time) and a window added; and maybe some earlier work was done there, too – that portion may have initially been an entrance way.