Divided back, embossed postcard. Postmarked May 11, 1913 from Elwood, Nebraska. Series or number G10.
Price:  $5.00
"Only a message sweet and true

Saying I think today of you."
Addressed to:   "Miss Lena Davis, Almena Kans."
"May 10       Dear Cousin, We are all well having fine weather. I have 109 little chicks my housecleaning done and garden planted. The wheat look fine. Fred is listing corn he has been sick but better now. The boys grow fast and play out doors all the time. From Your Cousin Alice."
Have been away from posts (alas) for some time. This seems to be a common refrain lately (sigh). Anyway! Here's one from our Lena Davis Collection (hey, Lena 🙂 ) of a beautiful sunset on a lake (lake as in Great Lakes comes to mind, being a Michigander) with sailboat, seagulls and is partially framed by forget-me-nots. Flipping to the back to read the message from Lena's cousin Alice, we jump from lakeside to a rural farm setting of chicks, wheat and corn……What woman cannot relate to this sense of accomplishment,  "I have my 109 little chicks, housekeeping done and garden planted."  Time to kick back on the front porch with an ice-cold lemonade (while of course, keeping an eye on the boys, ever-multi-tasking 😉  ).
And, yes, Fred is really "listing" corn. He would have used a piece of farm equipment similar to the one pictured below, planting the kernels in the furrows (the ditches) so the corn could root deeper in the soil and the roots could be covered later, thus protecting them in times of drought.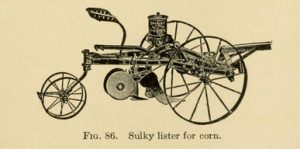 Source:  Widtsoe, John Andreas. Dry Farming:  A System of Agriculture for Counties Under Low Rain Fall. New York:  The McMillan Company, 1911. (archive.org).