Real Photo Postcard, unused. Circa 1907 – 1915.
Price:  $4.00
What confirms this structure's status as a boat is the name at the stern – though very faint and indiscernible. And since the postcard's image is so washed out, here's a darker version: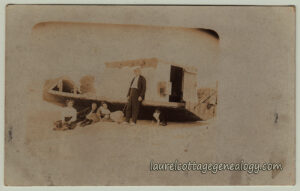 So, unless someone is writing a book on old houseboats, I don't see much monetary value here for this card. But we've had sales on items in the past – cover of a book on one, fashion example used inside another book, etc. – so, value is relative. Ha, it's definitely true, sometimes I ask myself later, "Why did I buy this one?"  🙂 (No names, rather light…) Harkening back now to my mindset at the time, it was for the romantic notion of houseboats I've had since a child. (At least, I think this can be called a houseboat.) Woven in there somewhere is an antidote for a feeling – a lament, a long-running perception (that surfaces pointedly at times) that our present-day "expectation" is one of making everything ascetically acceptable (a nice lawn, nice-looking house, etc.) – an expectation that, in my opinion, often usurps the more important things in life – real friendship among neighbors, for instance….So it's refreshing to travel back to the early 1900's, to a time when a hand-built boat like this one would not automatically be viewed as an "eyesore" but rather, just simply for what it was.
The story from this captured moment….of course, we can speculate all day long, but my take….The houseboat belongs to the older gentlemen with the walking stick, having built it and lived on it for a time in his younger days. He's got great anecdotes (that the rest of the family have heard a number of times – rolling eyes, 😉 ). He's here to retrieve some items resting in storage, and he and the family have turned the trip into a nice outing and a photo op. (Note the three hats that have been removed and are laying on the ground in a pile.) Check out the expressions – the rather comical upwards glance of the lad toward the old man, the come-hither expression for the young lady (gorgeous lace collar), the straight-on pose for the woman (daughter or wife of the gentleman?), that air of history and ownership emanating from the old man, and never forgetting to mention, the family dog, happy to be out for the day with his "charges."
Back to the boat – it's quite long. I thought at first that the roofed portion on our left was from some building behind it, but no, that part is attached. Note the animal skins that lay draped over the top edge of the cabin (for keeping out the rain?). And the wooden or metal box attached to the cabin's front wall, left of the doorway – the box meeting some type of practical purpose.