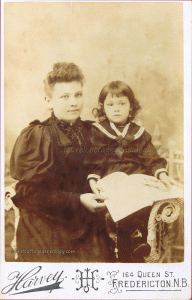 Cabinet Card. Circa 1890s. Photography studio:  Harvey, 164 Queen St., Fredericton, New Brunswick, Canada.
Price:  $20.00 including frame
One of my favorite images:  This one was found in an antique store in Salinas, California. I fell in love with this photo and it hangs on a wall in the frame it was found in. It was also the first old photo that I bought and I guess, got me hooked on collecting. I would love to know the names of these two young ladies. I presume them to be mother and daughter. Some web research shows that this may have been taken by photographer John Harvey. The Harvey studio was founded in 1883 according to their website, and their current address is still on Queen St., in Fredericton. Note the "leg 'o mutton" or "gigot" style sleeves of the mother's dress.