Undivided back postcard. Circa 1906. Publisher or Printer:  Stationers Manufacturing Co., Quincy, Ohio.
Price:  $4.00
I had wanted to get this card up for MLB opening day, but it didn't make it. No biggie, anyway it's showing a young ball player at bat (or in the bullpen). (I really bought it for the design on the back, which is nice.)
But who was the artist? We found another postcard online, same image, with "Copyright 1906. J. Tully." printed on it. Our card, per the reverse, was printed by Stationers Manufacturing Company in Quincy, Ohio. Tully was out of Chicago, per other cards online, but no records were found for him (either as artist or in the card publishing/printing business). Some postcard sellers list him as artist, but he could have been a publisher, especially given the fact that initials "CNB" or "NBC" appear at the bottom right of the ball player, leading one to think that they could be the artist's initials. On the other hand, oftentimes the "C" in initials like that stood for "Company." So, the actual artist could have been an unnamed one within that company.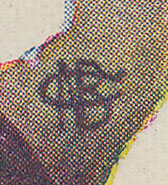 For a better understand of the complicated world of postcard printers, publishers, jobbers, artists and photographers, see the various web articles under  Metropostcard's "Metropostcard Guides." (Proof – as if we needed it 😉 – that things are almost always more involved than we imagine.)
Only one minor reference, in 1907, was found for Stationers Mfg. – in a trade journal listing under wholesale and retail stationers, no address listed.
Source:  "Metropostcard Guides." Metropostcards.com. (accessed May 16, 2022).