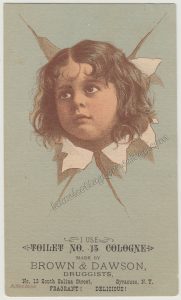 Trade Card, circa 1887. Syracuse, New York.
Price:  $15.00     Size:  About 2 and 5/8 x 4 and 3/8″
"I use Toilet No. 13 Cologne. Made by Brown & Dawson, Druggists, No. 13 South Salina Street, Syracuse, N. Y.    Fragrant!    Delicious!"
Yikes, delicious?! Not how we would describe perfume or cologne today, I don't think. Wonder if they named it number 13 after their address? In any case this is the second Bufford trade card of the same design (see prior post) and we'll see what we can find for Brown & Dawson.
The 1879 city directory shows W. L. Brown and E. S. Dawson, Jr., Druggists.
W. L. was living at 223 Genesee Street in Syracuse in 1880, per the Federal Census, occupation Druggist. He was born in New York, about 1845. Married to Gertrude F., about five years his junior. Their children on this census are Garrett, Mabel and Guy, ages ten to three. Also in the household are Minnie Carey, domestic servant, and James Burrell, boarder.
The 1870 Federal Census for Syracuse reveals that W. L.'s given name is Willet (spelled with two t's here). He's there with wife Gertie, other family members Rebecca and Frank, and a Sarah Elmendorf, maybe a servant or border.
We also see Find A Grave has an entry for him, and this shows his wife's maiden name was Garrett. And the 1910 Federal Census shows that Willet Brown is still operating as a druggist.
So, who was E. S. Dawson, Jr?
We went to Google eBooks to find that he was Edward S. Dawson, Jr. and how nice to find a biography and a photo. Edward was born September 29, 1852 in Syracuse and got into the pharmacy business as a bottle washer at age 16, eventually partnering with Willet Brown in 1887.  See The Pharmaceutical Era, Vol. 35  for the full account.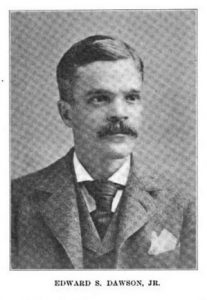 Sources:  Boyd's Syracuse City Directory, 1879 – 1880. p. 92. Ancestry.com. U.S. City Directories, 1822-1995.
Year: 1880; Census Place: Syracuse, Onondaga, New York; Roll: 908; Family History Film: 1254908; Page: 496A; Enumeration District: 222; Image: 0292. (Ancestry.com)
Year: 1870; Census Place: Syracuse Ward 6, Onondaga, New York; Roll: M593_1063; Page: 364A; Image: 118471; Family History Library Film: 552562. (Ancestry.com)

Find A Grave Memorial #74337313. (findagrave.com). Web accessed May 22, 2016.
Year: 1910; Census Place: Syracuse Ward 12, Onondaga, New York; Roll: T624_1057; Page: 5B; Enumeration District: 0152; FHL microfilm: 1375070. (Ancestry.com)

Kennedy, Ezra J., Ph. C. (ed.). (1906) The Pharmaceutical Era, Vol. XXXV. p. 417. (Google eBook).