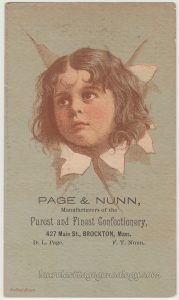 Trade Card, circa 1882, Brockton, Massachusetts.
Price:  $15.00             Size:  About 2 and 5/8 x 4 and 3/8″
"Page & Nunn, Manufacturers of the Purest and Finest Confectionery, 427 Main St., Brockton, Mass.        D. L. Page.     F. T. Nunn."
A trade card in what we like to call the "Breakthrough" style (see category under this name for more) and we couldn't resist putting this one up after the Lupe Patton post because of the hairstyle and angle of the pose (he he). This was done by the well-known lithography firm Bufford of Boston, Mass. This particular design of the beautiful child with the soulful brown eyes may have been a popular choice back in the day:  We have another that will go up next, advertising a different company.
Dudley and Frederick
Page & Nunn were Dudley L. Page and Frederick T. Nunn according to the 1886 Lowell, Mass. city directory. Dudley was living in a house located on Humphrey "near Dracut line" and Fred was rooming at the shop, which was located at 46 Merrimack in Lowell. They appear in the 1888 Lowell directory, as well.

1882 in Brockton
But per our trade card Page & Nunn were found in the Brockton city directory 1882 with the business address same as on the card. There was supposed to be an ad for them on page 456, but evidently it never got submitted. The 1882 shows Dudley was living in a house in Lowell, and Fred was rooming at the Star Building on Main St. in Brockton.
A little more on Dudley
Dudley L. Page was found on the 1880 Federal Census for Lowell, living with his widowed mother, Ann Page, at 42 Church St. Dudley is listed as married, born in New Hampshire about 1846. Also in the household are grandchildren of Ann:  Lucien, Lena and Archie McLoon.
Sources:  John Henry Bufford. n.d https://en.wikipedia.org/wiki/John_Henry_Bufford (accessed May 22, 2016).
Sampson, Murdock & Co.'s The Lowell Directory, 1886, No. XXXV. p. 460, 473, 828. Ancestry.com. U.S. City Directories, 1822-1995.
C. F. Copeland's, The Brockton City Directory, 1882. pp. 155 and 161. Ancestry.com. U.S. City Directories, 1822-1995.
Year: 1880; Census Place: Lowell, Middlesex, Massachusetts; Roll: 545; Family History Film: 1254545; Page: 563D; Enumeration District: 469; Image: 0628. (Ancestry.com)