Divided Back, Real Photo Postcard. Postmarked January 15, 1908, Iowa City, Iowa.
Price:  $15.00                Size:  About 5 x 3 and 1/2″. Card is slightly cropped. 
For old times sake…….
Addressed to:   "Mr. L. G. Johnson. Denver Colo. Box 4. 40th St.Station."
The sender wrote:   "For old times sake I send you this. Mae."
The Iowa River is a tributary of the Mississippi and measures about 323 miles long. We found some similar images in old postcards currently on eBay and then the ad below from Duluth Lumber in 1909 confirming that Mae's location was indeed the Iowa City Dam, today called the Burlington Street Dam. The building in the background should be the power station. And enlarge the postcard twice to get a much better view of Mae's hat. (It's quite nice!)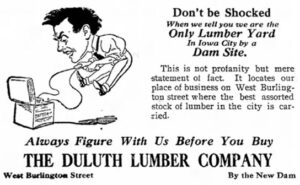 Sources:  Iowa River. n.d. https://en.wikipedia.org/wiki/Iowa_River (accessed September 17, 2023).
Burlington Street Dam. https://www.iowawhitewater.org/lhd/LHDburlingtonst.html (accessed September 19, 2023).
Duluth Lumber Co. Ad. Iowa City Press-Citizen. March 12, 1909. Friday, p. 3. (Newspapers.com).