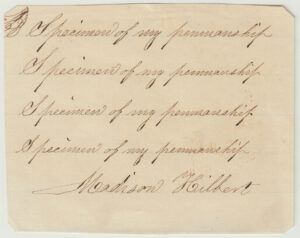 Penmanship example, circa late1910s to early 1920s.
Price:  $12.00         Size:  About 3 x 2 and 1/4″     
Here's an unusual find from an antique store. And it may be hard to pin down a date for this piece of paper. (How did it survive all these years? Luck or destiny. But, somebody obviously cared – note the corners that were so nicely trimmed.) Anyway, in looking at the writing style to try to get a time-frame, that capital "H" by Madison is the fanciest of his letters. Can we find this particular style to correspond with a to-and-from-ish date? After multiple searches…..ummmm, no. Well, maybe it's possible, but it would be quite time-consuming to undertake. (I guess it's not like clothing.) But, if Madison Hilbert was born in, say 1900, how many possibilities are there (in case he's on your family tree)? One, born in December 1902, Philadelphia, and a couple of James Madison Hilberts born in 1906 (Indiana and Tennessee). These ended up to be the only possible matches found from years 1850 all the way up through 1940.
Sources:  Historical Society of Pennsylvania; Philadelphia, Pennsylvania; Historic Pennsylvania Church and Town Records; Reel: 242. (Ancestry.com).
National Archives at St. Louis; St. Louis, Missouri; WWII Draft Registration Cards for Indiana, 10/16/1940-03/31/1947; Record Group: Records of the Selective Service System, 147; Box: 348. (Ancestry.com).