Divided back, unused postcard. Circa 1930s – 1940s.
Price:  $8.00     Size:  6 and 1/4 x 4 and 1/4″

"Windmill Lodge. Ferris, Ontario. Phones 425W4 and 83W5. 5 miles north of Callander on Highway No. 11. Watch for cream, black and orange windmill and cabins. 100 feet off highway on the beach on the way to North Bay. Mrs. Allan Leigh, prop. Insulated cabins and cottages on-the-lake. Inner spring mattresses – showers, running water in cabins, flush toilets. Delicatessen, meals and lunches. Sandy Beach – Safe Bathing – Pike, Pickerel and Bass Fishing."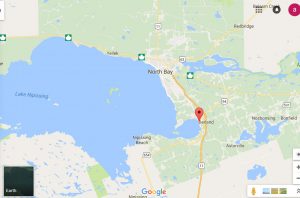 To get our bearings again (as per the prior post) the red "pin" on the map above marks the town of Callander, and according to the description on the card, the Windmill Lodge would have been located about 2/3 of the way up from Callander to North Bay. Today, there is the township of East Ferris, and West Ferris, a suburb of the town of North Bay. For time-frame and a little more info, we found a matching postcard at the excellent VintagePostcards.org (towards the bottom of the page in the link.) According to VintagePostcards, the Windmill Lodge is estimated as operating in the 1930s – 1940s, and may have been a forerunner to the Leighaven Cottages.
Sources:   Callander, ON, Canada. Google.com. (accessed March 29, 2017).
East Ferris. n.d. https://en.wikipedia.org/wiki/East_Ferris. (accessed March 29, 2017).
"North Bay, Ontario:  Canadian History in Vintage Postcards."  VintagePostcards.org. (accessed March 29, 2017).