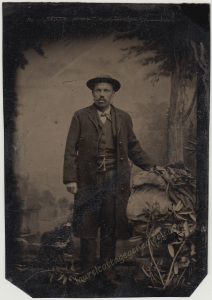 Tintype of unknown gentleman with cigar. Circa 1880s.

Price:  $15.00                 Size:  2 and 1/2 x 3 and 5/8″
I think of Cuba when I look at this image – just an impression; the location and the man's ancestry is certainly unknown. No name attached (as in most tintypes found.) The plants in the foreground look real, and it seems unusual (as in sort of messy) that there's some type of fabric laying on the fake rock that his left hand rests on. If you look closely, you can see there's a border, similar to the lapel trim on the below-the-knee coat he's dressed in, but wider. And he wears his wide-brim, low-crown derby tilted back, a silk necktie, and vest with watch and fob. As for the date of the tintype, possibly mid-1880s:  there's an almost identical-looking coat, except for the buttons, appearing on another gentleman, and showing a somewhat similar necktie, which is estimated have been taken around 1885.
Source:  Morein, Alyssa S., "Tintype Portraiture in Early Auburn," April 2005. White River Journal, White River Valley Museum. (accessed September 10, 2016).