The Dewey Post Card Company was a postcard publisher out of Dewey, Oklahoma, according to our Grand River Dam card. And there may be non-digitized info out there somewhere, as in city directories, that would shed more light on the company, and certainly one would presume that other postcards from them must have survived. (Nothing showing at the moment.) The one thing we did find though, is the publisher's connection to the photo chronicles of one of the most important events in Waco, Texas history, and a slight glimpse into downtown happenings maybe a month or two afterwards:
From The Waco News-Tribune. (Waco, TX) July 22, 1953.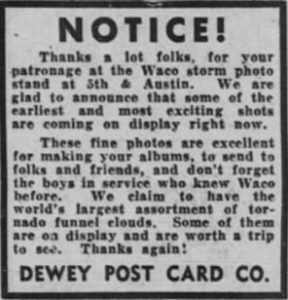 The storm referenced above was the devastating F5-strength Waco Tornado that tore into (descended on – an even better description – from the Teardrop Memorial) the city on May 11th,1953, resulting in the tragic loss of 114 lives, as well as injuries to around 600 and property loss valued at the 1953 rate of over 50 million….The hail before the tornado had become as big as baseballs….From the sound of the ad, Dewey was one of several (?) enterprises set up at the "Waco storm photo stand" downtown at 5th and Austin, downtown being one of the worst hit areas. (Was it still mostly rubble at this point?) See the links below for detailed information and photos.
Sources:  "Notice!" Dewey Post Card Co. Ad. The Waco News-Tribune, July 22, 1953, Wednesday, p. 15. (Newspapers.com).
1953 Waco tornado outbreak. n.d. https://en.wikipedia.org/wiki/1953_Waco_tornado_outbreak. (accessed June 11, 2017).
Simmons, Brian M. "The Most Horrible Storm: A Firsthand Account of the 1953 Waco Tornado." May 8, 2012. Baylor University's The Texas Collection. (http://www.baylor.edu/lib/texas/) Accessed June 11, 2017.