This logo circa 1906 – 1910?  See our York Minster post for the front side.
This is an example of the newer version of the " 'Dainty' Series" logo showing figure holding lantern, by publisher E.T.W. Dennis & Sons, Ltd. We'll have to look for a postcard to buy, scan and put up here that will do the earlier version justice. But for now here's a link to click on from the website Metropolitan Postcard Club of New York City, a great site which we've had occasion to mention on previous posts. Just scroll down on the page to find the publisher entry in the spotlight here.
Between the two logos, there's the obvious addition of the scroll work and company name in the later version. But though there are major similarities in the little scene with the two figures, the faces of the two appear to be different. I think the one we have shows a little girl, and the other shows a grown man.
Edward Thomas West Dennis (1847 – 1923) was a Quaker who owned the Mercury weekly newspaper in Scarborough, England. His company produced the first postcard in England in 1894. The firm's "Dainty Series" ran from about 1902 – 1910. In April 1905 the firm became a Limited Company (Ltd.) Click here for an excellent compilation of biographical details on Dennis. And see the same site's www.webber-postcard.me.uk  homepage for a rundown of dates and links for Dennis' early beginnings to modern times, after year 2000 and the company being bought out by the Irish postcard firm of John Hinde.  Also of interest on Webber's site regarding the "Dainty Series" was a postcard found without either logo. Click here for the example and possible explanation.
One more "Dainty Series" example (with those words in the stampbox) was found on Attic Postcards showing letters "D" and "S" inside a diamond shaped design. This is found on an artist-signed card entitled "Snowdon from Capel Curig."
Update: Attic Postcards mentioned above unfortunately appears to be no longer available.
Below, another example of a "Dainty" logo that appears on the back of the "Sheffield Wednesday" postcard, from a reader (thanks, John). The Sheffield Wednesday Football Club had used "Ground Owlerton" before the grounds were renamed Hillsborough in 1914, so this Dainty Series logo was in use at least in 1914 and sometime prior.
And another postcard from a reader (thanks, Mara). This card's publisher logo is the same as the one directly above. A view of High Street, Maidstone, Kent County, England: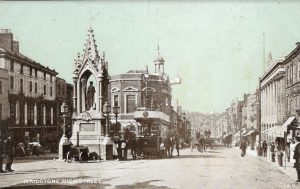 Sources:  ETW Dennis. Web accessed February 9, 2015. (http://www.scarborough-heritage.org/resources/Commarch/ETW%20Dennis.pdf)
E.T.W. Dennis of Scarborough. www.webber-postcard.me.uk. Web accessed February 8, 2015. (http://www.webber-postcard.me.uk/Post1900Dennis.htm)
Snowdon, Capel Curig, Wales, Elmer Keene, Dainty Series, Dennis & Sons Postcard. Attic Postcards. Web accessed February 9, 2015. (http://www.atticpostcards.com/images/RH26/034.html)