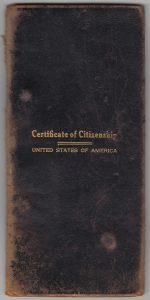 Original Naturalization Certificate and Leather Folder, 1928.
Price:  $25.00             Size of certificate:  10 x 8″

Russian immigrant Stefan Krukowski, a friend in Detroit
This original certificate in a leather folder was found last summer on our Detroit trip, at a wonderful little antique shop on Michigan Avenue. (I was offered free-trade coffee and homemade muffins!) It shows the naturalization of Russian immigrant Stefan Krukowski, described as age 33, height 5′ 10″, medium complexion, blue eyes and brown hair. He became an American citizen through the District Court of the United States held at Detroit, Michigan, on December 10, 1928. Stefan's Petition paperwork shows he was born July 11, 1894 in Minsk, Russia, emigrated from Libau, Russia on July 12, 1913 and arrived in New York on board the vessel Pennsylvania on July 24th. His residence at the time of naturalization was 3527 Greusel St., Detroit. Federal Census records for Detroit show Stefan was single and worked as a clutch inspector at an auto factory in 1920, boarding at 11 Cicotte St. and then as a pipe corker for the city water works in 1930, boarding at 5206 St. Lawrence St. (The street numbers on Cicotte may have been re-numbered since that time because if you look up 11 Cicotte now it shows as 11 E. Cicotte in River Rouge, and he was Detroit.) The 1940 census wasn't found, but there is a Find A Grave entry for Woodmere Cemetery which may be for this gentleman with a very touching headstone that shows above "Stefan Krukowski 1895 – 1958"  the simple inscription, "Friend."
2017 treasure hunting, Michigan Ave near Casper Street
Below, Junque Shop Antiques at 7807 Michigan Avenue…Papa's Pizza on the corner and oops, I didn't get the whole "winged wheel" that's sacrilegious 😉 …..(Go Wings.) And I'll get a better shot of the store this year when I go back.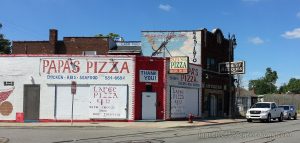 Sources:  Year: 1920; Census Place: Detroit Ward 18, Wayne, Michigan; Roll: T625_817; Page: 37B; Enumeration District: 571. (Ancestry.com).
Year: 1930; Census Place: Detroit, Wayne, Michigan; Roll: 1061; Page: 11A; Enumeration District: 0740; FHL microfilm: 2340796. (Ancestry.com).
National Archives at Chicago; Chicago, Illinois; ARC Title: Naturalization Petitions and Records, 1906 – 1991; NAI Number: 1137682; Record Group Title: Records of District Courts of the United States, 1685-2009; Record Group Number: RG 21.
Memorial #112992571. Find A Grave. Find A Grave. http://www.findagrave.com/cgi-bin/fg.cgi.