"My dear Aunt Hetty: –  Here I am at the sea-shore, well and happy. I send love to Marie and Aunt Flora your loving, Frederick."
Addressed to:   "Mrs. H. L. Demarest, 468 Ellison St., Paterson N. J."
The adorable little boy in the photo above is Frederick L. Low, son of Frank E. Low and Mary W. (Doremus) Low, born September 9, 1899 in Paterson, NJ. Aunt Hetty is Hetty (Low) Demarest, Frank's sister. The 1910 Federal Census for Paterson shows the family, including Frederick's older brother, Donald, some of the Doremus family, and house servant Minnie Wood.
From seaside to silk
Fred Low followed his father, Frank into the silk trade, and at the age of twenty was learning the business from him, via their employer Robert Lang & Co., who had offices in Paterson, N.J. and Shanghai, China. Passport applications in 1919 can be found for both Fred and his parents, revealing a proposed trip to encompass Hong Kong, China and Japan, with intended time abroad to last about four months. Here is Fred's passport photo, and just imagine the childhood years in Paterson flowing by for the little boy above, to the young man below.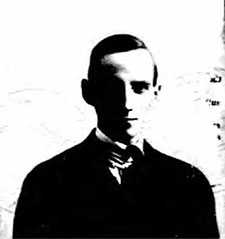 An excerpt from the passport affidavit:
"…the said Frank E. Low is the father of said Frederick L. Low, and that they both reside at Ridgewood, N. J.; that said Frank E. Low is the secretary and manager of Robert Lang and Company, raw silk importers, with offices at 152 Market St., Paterson, N.J., and that the said Frederick L. Low is also employed by said Robert Lang and Company, at said place, and at its ware-house, 58 Fair St., Paterson, N. J.
"That the place of business of said Robert Lang and Company, and where its raw silk is produced and marketed, is at Shanghai, China; that the business of said Company has grown to such an extent that it is necessary that said Frank E. Low make a trip to China to confer with the other stockholders, directors, and officers of said Company, said Frank E. Low being the only stockholder, director, or officer of said Company, who resides in the United States.
"Said Company is incorporated under the laws of the State of New Jersey, and its principal office is at 152 Market St., Paterson, N.J.
"It is necessary that said Frederick L. Low accompany said Frank E. Low because he is learning the raw silk business and is to assist his father in the conduct of said business. It is essential that he familiarize himself with the growing and producing end of the business."  (sworn and subscribed Sept 16, 1919)
Last but not least
Of interest also, is the beautifully designed back header with it's little bird carrying a letter and with flowing lines that include a feather quill pen. This was still the era of the Private Mailing Card, which ran from the date given in the header till December 1901.
Private Mailing Card with Real Photo. Unused with writing. Circa 1901.
Price:  $20.00    Size:  About 5 and 3/8 x 3 and 1/8″

Sources:  Year: 1910; Census Place: Paterson Ward 4, Passaic, New Jersey; Roll: T624_906; Page: 22A; Enumeration District: 0119; FHL microfilm: 1374919
"New Jersey, Marriages, 1678-1985," database, FamilySearch (https://familysearch.org/ark:/61903/1:1:FZKP-X9Z : accessed 19 July 2015), Frank E. Low and Mary W. Doremus, 02 Apr 1890; citing 495,712.
Year: 1880; Census Place: Paterson, Passaic, New Jersey; Roll: 796; Family History Film: 1254796; Page: 157C; Enumeration District: 157; Image: 0097
National Archives and Records Administration (NARA); Washington D.C.; NARA Series: Passport Applications, January 2, 1906 – March 31, 1925; Roll #: 920; Volume #: Roll 0920 – Certificates: 118750-118999, 19 Sep 1919-20 Sep 1919