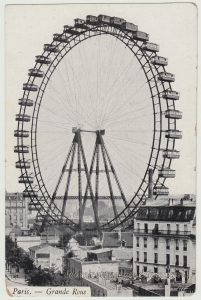 Black and white view of La Grande Roue. Paris, circa 1900.
Price:  $3.00
There are a number of postcard views of this, La Grande Roue, though this is not one of them. It's actually a printed card, postcard size, with nothing on the reverse. At the time of its construction, this mammoth wheel, measuring 328 feet tall (100 meters) was the largest in the world. It was disassembled in 1920. The buildings in the neighborhood really put the giant into perspective. See this Wikipedia link for some very interesting facts about the passenger cars.
Source:  Grande Roue de Paris. n.d. https://en.wikipedia.org/wiki/Grande_Roue_de_Paris (accessed October 25, 2020).