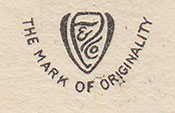 P. F. Volland & Co. or P. F. Volland Co., in their heyday, was one of the leading publishers in the United States and was known especially for their children's  books, as well as greeting cards, postcards, calendars, framed mottos and other ephemera. The company was founded in 1908 and operated until the late 1950s, after having merged with the Gerlach Barklow Company in the mid-1920s.

"The Mark of Originality"
The above image is the publisher logo from the postcard reverse of our prior post. P. F. Volland & Co. was founded by Paul F. Volland in 1908 and later just went under P. F. Volland Co. They were headquartered in Chicago and later added branches in other cities including New York and Toronto. At first glance the logo design might seem somewhat random (especially when viewed as a whole including the Christmas tree on the card reverse shown below) but no, there's the V for Volland and inside the V, the letter P, and then the ampersand inside the P, and the "Co" just underneath the P, and then more subtle is the F which is incorporated into the P. There's two ways you could view the F – either with the line above the ampersand being the horizontal top line, or that of its shorter horizontal line……But, so much for that detailed, probably unnecessary 😉 breakdown of the publisher's mark.

So, there's already quite a bit online for this publisher including this Wikipedia entry. Check out the very long list (we counted 165) of writers and artists who, at one time, had contributed to the company, including big names like Frank L. Baum, Lewis Carroll, Robert Louis Stevenson and Johnny Gruelle (creator of Raggedy Ann and Andy). (Interesting to find this list immediately after musing on the unknown artist of said prior post.)
Below, an early mention from 1909 that appeared in the Lincoln Journal Star (Lincoln, NE). The Volland offices were in the Monroe Building at 100 S. Michigan Ave. before moving in 1916 to the Garland Building at 58 E. Washington St., in Chicago.

A short bio
Paul Frederick Volland was born in Leipzig, Stadtkreis Leipzig, Germany, April 24, 1875, the son of Gustav Volland. He married Laura Marie Gordon November 2, 1898 in Rock Island County, IL, and they had a son, Gordon Byron Volland, born October 1899. The couple later divorced and Volland married Gladys Couch. They had two daughters, Dorothy Virginia Volland and Gladys D. Volland. Paul and Gladys were said to have been divorced at the time that Paul was shot and killed, May 5, 1919, in his office in Chicago by Mrs. Vera Trepagnier, the result of a business dispute with Volland involving a deal over a miniature heirloom painting of George Washington. One of the silent partners and company executives, Frederick J. Clampitt, took over the business after Volland's death. The P. F. Volland Co. merged with the Gerlach Barklow Co. around 1926 (accounts vary) and moved offices to Joliet, Illinois.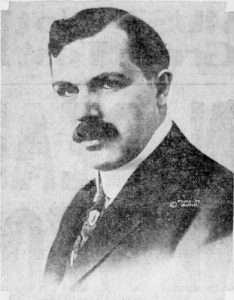 Photo of Paul F. Volland that appeared in The Boston Globe, May 10, 1919, in the article regarding his death.
1926 merger and move article

Appearing below, a clipping from the Daily Republican-Register (Mount Carmel, IL) January 26, 1926. (That's a typo on "Voll.")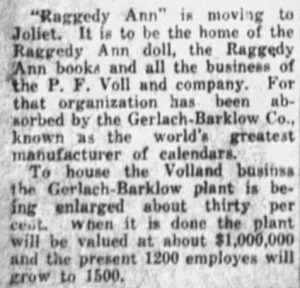 Son, Gordon Volland hired by Buzza
P. F. Volland's son, Gordon B. Volland, became a publisher like his father. City directories show he was in New York in 1925 and Joliet Illinois in 1927 (possibly with the P. F. Volland Co. in both locations) before being hired as the head of the juvenile book publishing department, for the Buzza Company in Minneapolis. The following clipping is from The Minneapolis Morning Tribune, May 20, 1927. (However, we'll stop here in following Gordan's career).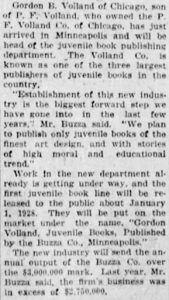 Sources:  P. F. Volland Co. n.d. https://en.wikipedia.org/wiki/P._F._Volland_Company#Authors_and_illustrators_of_the_P.F._Volland_Co. (accessed January 11, 2020).
Ancestry.com. Illinois, Deaths and Stillbirths Index, 1916-1947 [database on-line]. Provo, UT, USA: Ancestry.com Operations, Inc., 2011.
Virginia Department of Health; Richmond, Virginia; Virginia, Marriages, 1936-2014; Roll: 101168004
Ancestry.com. Illinois, Compiled Marriages, 1851-1900 [database on-line]. Provo, UT, USA: Ancestry.com Operations Inc, 2005.
Year: 1920; Census Place: Chicago Ward 25, Cook (Chicago), Illinois; Roll: T625_342; Page: 7B; Enumeration District: 1477.
Find A Grave
, database and images (
https://www.findagrave.com
: accessed
05 January 2020
), memorial page for Paul Frederick Volland (24 Apr 1875–5 May 1919), Find A Grave Memorial no.
174313703
, citing Rosehill Cemetery and Mausoleum, Chicago, Cook County, Illinois, USA ; Maintained by K Gillen (contributor
47561859
) .
"Artistic Publications." Lincoln Journal Star, November 15, 1909. p. 16. (Newspapers.com).
"Raggedy Ann is moving to Joliet." Daily Republican-Register (Mount Carmel, IL) January 26, 1926. (Newspapers.com).
The Price & Lee Co.'s Montclair NJ's city directory 1925. Entry for "Gordon B. Vollend." NY publisher. p. 457. Ancestry.com. U.S. City Directories, 1822-1995.
R. L. Polk & Co.'s Joliet City Directory 1927. Entry for Gordon B. Volland. p. 442. Ancestry.com. U.S. City Directories, 1822-1995.
"Buzza to Open Juvenile Book Industry Here." The Minneapolis Morning Tribune, May 20, 1927. Friday, p. 1. (Newspapers.com).