Divided back, unused Real Photo Postcard. NOKO stamp box. Circa 1925.
Price:  $12.00
I think we can say beyond a reasonable doubt that this gentleman is Melvin Eustace Noel, born September 18, 1899 in Palermo, California, as no other possibilities were found. Melvin was the son of Daniel Noel and Daisy E. (Darby) Noel. We're estimating maybe he was around 25 years old when the photo was taken. From records it appears he had never married and had made his living in the ranching industry. Makes sense as to his work boots and maybe best work pants that he wears for the photo, along with the suit jacket and tie. His WWII Draft Registration Card shows he was employed at that time by Amadee Ranch, address Wendel, CA with employer's contact name and address given J. L. Humphrey of Reno, NV. Below, a Google map showing the town of Wendel, just north of Honey Lake, and moving eastward, the California-Nevada border.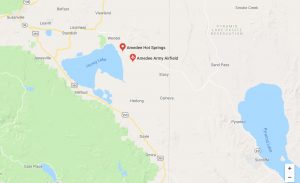 Sources:  The National Archives in St. Louis, Missouri; St. Louis, Missouri; Record Group: Records of the Selective Service System, 147; Box: 1320. Ancestry.com. U.S. WWII Draft Cards Young Men, 1940-1947.
Year: 1900; Census Place: Ophir, Butte, California; Page: 24; Enumeration District: 0020. (Ancestry.com).
Original data: State of California. California Death Index, 1940-1997. Sacramento, CA, USA: State of California Department of Health Services, Center for Health Statistics. (Ancestry.com).
Wendel, California map (Google.com).