Divided back, used postcard. Paletti, Sarja Pääsiäinen. Circa 1930.
Price:  $10.00
An Easter card from Finland of a proud rooster with all his baby chicks, and the caption translating to merry, fun or amusing, or maybe just Happy Easter. The cancellation date is difficult to read, however the stamp should be from 1930. Paletti as you've guessed is Palette (not sure if this is the publisher name or not) and Sarja Pääsiäinen, as you've probably also guessed, is Easter Series. The card is addressed:
"Herrasväki Sivulat, Helsinki, Laivurinkatu 39."  And on the front (we need a native speaker) it appears to say  "F:  Utriaiset."  Below, the location this postcard went to in 1930. If we could time travel to be there as it was being received….(!)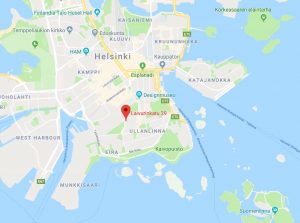 Sources:  Stamps of Finland: Definitives of 1930 – 1946. Stamp-Collecting-World. (accessed April 1, 2018).
"Laivurinkatu 39 00150 Helsinki, Finland." Google.com maps. (accessed April 1, 2018).