Mini-photo, circa 1890 – 1910.
Price:  $30.00 includes original photo and restored digital image 
Size including matting:  2 and 1/2 x 4″
Well, we appreciate whoever it was that wrote the name of this beautiful young woman on the back, even though it was only the married surname. I feel compelled to say thank you, too, to the unknown pencil-scribbler for at least limiting the scribbling to the background! And for sure, a more professional restoration could be done, but she turned out pretty good, after some time spent in Photoshop. Love the flowers added to her Gibson Girl hairstyle. Reverse below: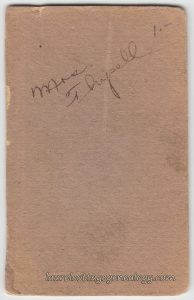 As to the origin of the surname Thysell, this name comes up most often in Sweden, and we find several possibilities from Minnesota records for our subject:  Was she Emma Roberts, born 1877 in Norway who married Carl John Thysell….or the Caroline E. Nelson born about 1880 in Minnesota who married Nels Albert Thysell….or the Emilia, born 1874 in Sweden who married Albin Gustav Thysell….or the Helen Nelson, born 1880 in Sweden that married Emil Theodore Thysell….or none of the above?