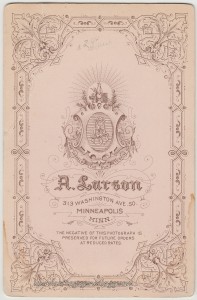 Here's the reverse side of the Cabinet Card in the prior post, and one of the many examples of the beautiful designs used by photographers for this time-period. Besides the ornate border, the center shows the photo artist's initials, an "A" with a curving "L" entwined around it; a camera and artist's easel in front of a shining sun; the motto underneath,  "I have engaged the sun to shine for me."  This phrase was not exclusive to Larson, as it was found on the back of a Cabinet Card for the photographer Anderson in Richmond, Virginia (showing currently on Flicker.) The photographer's name and address on our cabinet card shows as  "A. Larson. 313 Washington Ave. So., Minneapolis, Minn."
Thankfully, A. Larson was identified in the Minneapolis city directories at this address under his full name of Anton Larson. And the 1900 Federal Census for the same city shows the most detailed information about the photographer and his family:
Anton Larson, was born August 1849 in Norway of Norwegian-born parents, occupation Photographer on the 1900 census. His wife Caroline, was born in Wisconsin, June 1853, the couple having been married in about 1882. They have two daughters, Amanda[?] W., born in Minnesota, March 1884, and Agnes, born in Minnesota, August 1888. Living with them at the time is boarder, Anna Olson and a domestic servant, Hannah Nydahl, both born in Norway. The address for the family is 2446 Chicago Ave, a home that the Larsons are paying mortgage on. The 1900 also gives Anton's year of immigration as 1873, and shows he is a naturalized U. S. citizen.
A marriage record dated June 3, 1882, for the county of Hennepin appears to fit for the couple, showing the bride as Carrie Knuteson.
City directory listings from 1881 – 1905:
1881 – '82:  Address 228 Washington Ave. S., boarding at the same address is J. H. Olson.
1882 – '83:  313 Washington Ave. S., residence the same.
1884 – 1885:  307 & 313 Washington Ave. S., residence 1429 S. 7th.
1887 – 1905:  313 Washington Ave. S., residence 2446 Chicago Ave, with the exception of 1895 studio address given as 301 Washington Ave. S.
Sources:  Year: 1900; Census Place: Minneapolis Ward 8, Hennepin, Minnesota; Roll: 768; Page: 5A; Enumeration District: 0082; FHL microfilm: 1240768.
"Minnesota, County Marriages, 1860-1949", database with images, FamilySearch (https://familysearch.org/ark:/61903/1:1:QJGY-BQ9W : accessed 29 September 2015), Anton Larson and Carrie Knuteson, 1882.
C. Wright Davison's Minneapolis City Directories. Years encompassing 1881 – 1905. (Ancestry.com. U.S. City Directories, 1822-1989).