"Dear Ellie. Thought I had better let you know that I am not going to the theatre. Hope you will enjoy your little gift. Best love, Janey[?]"
Addressed to:   "Miss E. Potts, 6 Cholmley St., Hull."

Circa 1902 – 1910
The postmarked year is partially missing on this one. It was sent from Hull, England in February, and true, we see the number 6 there but was that part of the year or the date in the month of Feb? The stamp is a Great Britain 1/2d (halfpenny) King Edward VII; first issued January 1, 1902 in a blue-green color; the yellow-green was first issued November 26, 1904. Since Edward VII died May 6, 1910, the era for this stamp's issuance is given as 1902 – 1910. (In comparing this stamp's color to those showing online, I'm undecided as to whether this is the blue-green or yellow-green; it almost looks like a faded version of the blue-green.)
Yes or No
As for the addressee, Ellie Potts, there are several possibilities under Ellie and Eleanor, an exact match with the above address not being found. And the unknown publisher's "Yes or No" series (great name) fits the sender's message:  No, she is not going to the theater.
Pebbles and Fossils
About the front image:  This beach is famous for the Budleigh Salterton Pebble Beds. What's a pebble exactly? Well, I thought I knew what a pebble was, but it is defined as,  "…a clast of rock with a particle size of 2 to 64 millimetres based on the Krumbein phi scale of sedimentology."  Larger than a granule and smaller than a cobble. (Heehee, if this helps you.) And fossils in the form of shells can be found inside many of the pebbles on this beach. It's allowable to split the pebbles open, but illegal to take them with you. Just take a photo and leave for others to look at. See UK Fossils for more detailed information.
About a century
The photo below from the website Coastal Connect shows a similar view to the one on our postcard….about one hundred years later.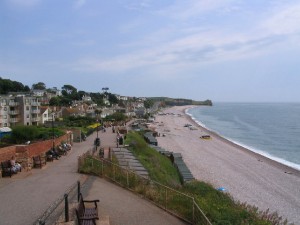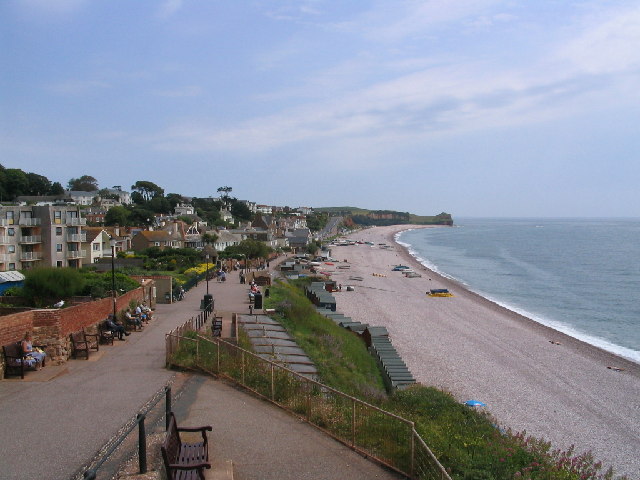 Divided back, Great Britain, used postcard. Circa 1902 – 1910. Postmarked from Hull, England in February, year unreadable. Publisher info:  "Yes or No" Series.
Price:  $15.00
Sources:  Stamps on postcards – A guide to dating cards. 1902 – 1910 King Edward VII. http://sunnyfield.co.uk/dayspast/stamps_on_postcards.php. Web accessed September 22, 2015.
Pebble. n.d. https://en.wikipedia.org/wiki/Pebble. (web accessed September 26, 2015).
Budleigh Salterton fossils and fossil collecting. http://www.budleigh.ukfossils.co.uk/. Web accessed September 22, 2015.
Photo, Budleigh Salterton Beach. Coastal Connect.http://www.coastalconnect.co.uk/Budleigh-Salterton.html. Web accessed September 26, 2015.