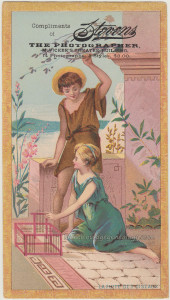 Trade card showing  "Stevens – The Photographer, McVicker's Theatre Building, 14 Photographs, 3 Styles, $3.00."  This advertising card, in colors of blue-green, pink, and brown with a gold-tone border is entitled,  "La Fuite des Oiseaux"  and shows a boy and girl, in flowing Grecian-style attire. We see the scene depicted here just after the young lady has released some birds (not shown) from their captivity while the young man looks on. Some short biographical info found about the photographer in question is as follows:
(See "Comments" for this post for more information and a question of possible middle name of Kelly for this photographer.)
John Kimbell Stevens, born July 4, 1838 in Buffalo, New York, son of Solomon Stevens and Clarissa Stone. On the 1870 Federal Census in Chicago with wife Loretta, and children, Lester W. and Mary G. 1870-1874 Chicago city directories address 163 S. Halstead, Chicago. 1878 city directory at 85 Madison. 1882 directory at 108 Dearborn and 1885 at 106 Dearborn. Son, Lester W. Stevens joined his father in the photography business in 1884, according to Lester's biographical info as a member of the Elks. 1887-1889 at 55 McVicker Theater Bldg. John K. Stevens' wife Loretta, sadly died in 1878 of consumption. He married a second time on October 25, 1881 to Addie B. Cater. John, Addie and their son Harry K. Stevens appear on the 1900 census in Chicago, with Addie's mother Josephine Cater and sister, Clara J. Cater, and a domestic servant, Mary Blackman. An ad in the 1905 publication entitled To-morrow shows  "Gibson, Sykes & Fowler (successors to J. K. Stevens & Co.) Leading photographers, McVickers Theatre Bld. The Oldest and Best Known Studios in Chicago. Established Over Thirty-Five Years." 
McVicker's Theatre was located in Chicago, on Madison between State and Dearborn Streets. It was built in 1857 by James H. McVicker, Chicago actor and producer. There were five different buildings at this location, the last theater went by McVickers, without the apostrophe, and was demolished in 1985. The first building was destroyed in the Great Fire of 1871. The Booth Family of Shakespearean actors were known to have performed there, including the infamous John Wilkes Booth (about three years prior to his assassination of Abraham Lincoln.) Actress Sarah Bernhardt made her American debut at the McVicker's in 1881, and comedian Eddie Foy also performed at the McVicker's.
Trade Card, circa 1887 – 1905.
Size:  About 6 and 1/4 x 3 and 1/2″
Price:  $10.00
Sources:  Stevens, John Grier. The descendants of Samuel Stevens; with histories of allied families: A biographical and genealogical record. (1968)
Ancestry.com. Cook County, Illinois, Marriage and Death Indexes, 1833-1889
Year: 1870; Census Place: Chicago Ward 10, Cook, Illinois; Roll: M593_205; Page: 389B; Image: 82; Family History Library Film: 545704. (Ancestry.com)
Year: 1900; Census Place: Chicago Ward 12, Cook, Illinois; Roll: 258; Page: 1A; Enumeration District: 0332; FHL microfilm: 1240258. (Ancestry.com)
Ancestry.com. Cook County, Illinois, Marriages Index, 1871-1920 [database on-line]. Provo, UT, USA: Ancestry.com Operations, Inc., 2011.
Ellis, Charles Edward; An Authentic History of the Benevolent & Protective Order of Elks. Chicago:  Published by the author, 1910. Pg. 56. (Google eBook)
Ancestry.com. U.S. City Directories, 1821-1989 [database on-line]. Provo, UT, USA: Ancestry.com Operations, Inc., 2011.
To-Morrow:  A Monthly Handbook of the Changing Order. Published Chicago, Illinois, January 1905. Pg. 61. (Google eBook)
http://interactive.wttw.com/timemachine/mcvicker%E2%80%99s-theater
Fields, Armond; Eddie Foy, a biography of the early popular stage comedian. Jefferson, North Carolina:  McFarland and Co., Inc., 1999. (Google eBook)