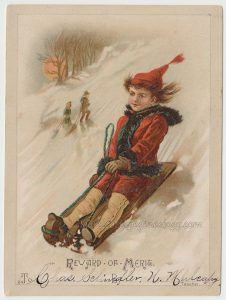 Reward of Merit. Circa 1880s – 1890s.
Price:  $10.00         Size:  About 3 and 7/8 x 5 and 1/4″
What fun! That must have been the perfect sledding hill. 😉 This really is a nice Reward of Merit card, still in decent condition. The artist and printer are unknown, but it's lovely, with all those "snow colors" contrasting with the burnt orange jacket (and hat) and the blue trim and the brighter blue on the sled rope. And there's a great example of gaiters, the tan leggings that button up the side. It's tempting to try to locate which Charles Schindler received this card from which teacher N. Mulcahy, but there's about thirty possibilities in the 1900 Federal Census records for Charles with an estimated year of birth from 1870 to 1890, so that would take way too long.