Soapine Trade Card, Circa 1880s. Lithographer:  William Karle, Rochester, New York.
Price:  $15.00.    Condition:  Very good, lays flat, no water damage or tears (click trade card images to see condition.)         Size:   About 5 and 1/4 x 3 and 1/2″
Beauty, eh?  Et elle montre un Québécois sans doute!  This trade card shows a man tobogganing (I like his style) wearing a white wool coat with blue and red stripes. (One might recall the Hudson's Bay Company blankets. I see a vintage blanket at the time of this post on Etsy, with the red, blue and yellow stripe, though the yellow in our man's coat appears as part of the barely visible lining.) And there's his ceinture or sash, as in the days of the voyageurs. This card looks to have been one of a set of five, per a current eBay offering which includes another with the toboggan and three with a snowshoe theme.
Whale Oil?
There are hundreds of Soapine trade cards online, many, like the portion below from Google images, show the trademark whale, which personally I find hard to look at, but it was a different day and age back then, when whale oil was used for a variety of things, including in the making of soap and margarine.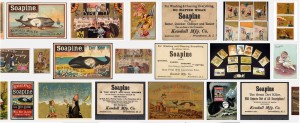 A short article from an 1881 Boston trade journal described someone's analysis of Soapine in comparing it's components to that of  "good Castile soap."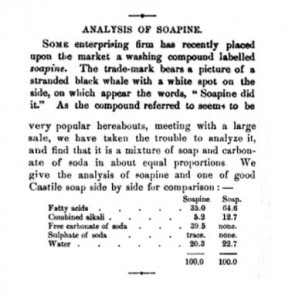 Predating the above, an ad was found dated July 11, 1879 in the Bangor Daily Whig and Courier.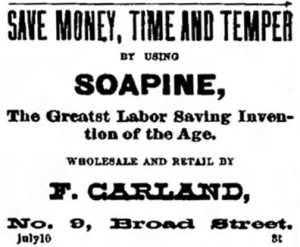 Jumping back to the trade card…Can you find the lithographer name on the back?
Barely noticeable is the stamp from the lithographer that appears on the back of the card, just under Kendall Mfg. Co. which reads:  W. Karle, Rochester, N.Y, deciphered thanks to the eBay set of five, mentioned up top, where the name is much more discernible.
W. Karle is identified from the 1880 Federal Census for Rochester as William Karle, born in New York, occupation Lithographer; age 25; married to Mary (Eyer) Karle, born in Bavaria, age 28; their daughter, nine-month old Emila; and head of household on this census, Mary's mother, Mary Eyer.
Below, an entry from the University of Rochester Library Bulletin, Vol. XXXV, 1982 regarding Rochester fruit and flower plates, by Karl Sanford Kabelac:
Karle & Co.; Karle & Reichenbach
William Karle (Rochester, September 19, 1854-Rochester, December 4, 1932) began his own lithographic company in Rochester in 1879. Anton Rahn was his partner for the first several years, and an 1881 guide to Rochester industries noted that Rahn & Karle had nine experienced employees, with Rahn responsible for the art work and Karle the engraving. From 1881 to 1883, according to the city directories, William F. Reichenbach was his partner. The firm was called Karle & Co. and then (1883) Karle & Reichenbach. Beginning in 1884, Karle is listed without a partner. Karle & Co. continued until 1932, when it merged with Stecher Lithographic (q.v.).
Looking very much like a business card, an 1879 city directory ad for William Karle.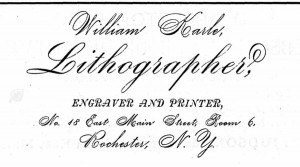 And back to Soapine again….
From an October 18, 1896 Boston Post article about Kendall Manufacturing, which mentioned a great company line that was seen at their exhibit at a food fair:   "Rain makes mud, mud makes dust and dust makes soap – necessary."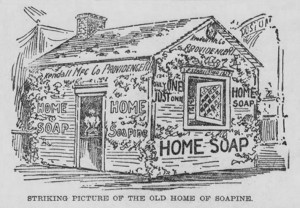 Below, a nostalgically humorous by today's standards, 1947 advertisement from the Troy Record.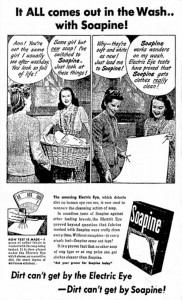 According to Kevin MacDonnell (MacDonnell Rare Books) Kendall Manufacturing lasted into the late 1950s, quite a long run from their established date of 1827! See his research regarding trade card artist Charlotte Perkins Gilman, Soapine and Kendall Manufacturing.
Sources:  "5 Fabulous Vict. Trade cards- Soapine- Snow shoe and Toboggan- 1880s." eBay. Web accessed February 20, 2016.
Nichols, M.D., James R., ed. "Analysis of Soapine,"  The Boston Journal of Chemistry, Journal of Chemistry Company. Vol. XV. (1881):  pp. 136 – 137. (Google eBooks).
Bangor Daily Whig and Courier. Bangor, Maine. Fri, Jul 11, 1879 – Page 2. (Newspapers.com)
Year: 1880; Census Place: Rochester, Monroe, New York; Roll: 863; Family History Film: 1254863; Page: 57B; Enumeration District: 094; Image: 0701. (Ancestry.com)
Kabelac, Karl Sanford.  "University of Rochester Library Bulletin:  Nineteenth-Century Rochester Fruit and Flower Plates."  Vol. XXXV. (1982). River Campus Libraries. (http://rbscp.lib.rochester.edu/2397). Web accessed February 20, 2016.
Drew, Allis & Company's Rochester City Directory, 1879. Vol. XXX p. 526. Ancestry.com. U.S. City Directories, 1822-1995.
Boston Post. Boston, Massachusetts. Sun, Oct 18, 1896 – Page 21. (Newspapers.com)
The Troy Record. 27 Feb 1947. Thurs. p. 7. (Newspapers.com.)
MacDonnell, Kevin  "Charlotte Perkins Gilman's Trade Card Designs."  The New Antiquarian, Blog of the ABAA. Web accessed February 20, 2016.