Divided back postcard. Postmarked December 9, [1901-1909] from Striegau (Strzegom, Poland). Publisher unknown.  Number and/or series:  1117/18.
Price:  $10.00
Addressed to:   "Fräulein Hedel Mandel, Halle a/Saale, Leipziger St. 73 [?]"
A colored (hand-colored?) card of a beautiful young fräulein holding a bucket, smiling, head tilted. We might automatically think "milkmaid" but note the potatoes? at her feet.
It's a good guess that the publisher is German, but we didn't find a match online for the logo below. I'm sure someone knows; I just did not want to spend too much time searching. We'll update in future, hopefully, but here's the view: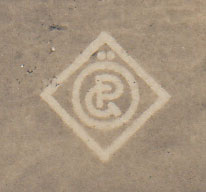 The postmark indicates Striegau which is the German spelling for Strzegom, Poland. And was addressed to Halle, a.k.a Saale, Germany. Here's a map link for the postcard's journey, as the crow flies, though it must not have been that straight-forward!
And if anyone can read the note that was sent to Hedel, please send us a comment.
UPDATE:  See the comment from a kind reader for the translation of the message from the postcard's sender.
Source:  Distance from Halle (Saale) to Strzegom. distancefromto.net.