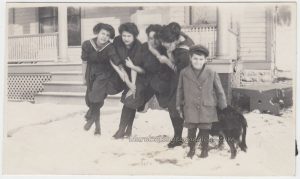 Old photo, circa early 1900s.
Price:  $3.00       Size:  About 4 and 1/8 x 2 and 1/2″

Gibson Girl hairstyles, sailor dresses, little brother and dog. Front yard posing in wintertime. There are no notes or i.d. written on the back, but imagine remembering the good time had by all. (Mabel, you were falling….That was your fault Eth, you were pulling me down!….) We can only see the back half of the dog, the boy is smiling looking straight into the camera, and what is he holding – could that be a folding pocket camera? The girls are clowning, and have tucked their long dresses into their boots, hanging on to each other in their best attempt to turn themselves into a 3-legged being. Behind them, their home, we presume. And in looking at the prior post (the two photos were found in the same pile) we wondered at first, if they could be some of the same girls, but likely not, this snapshot was probably taken earlier than the other….And what a heavenly front porch this must have been in summertime! Why was the wooden bench on the right turned over on it's side? That's another story!