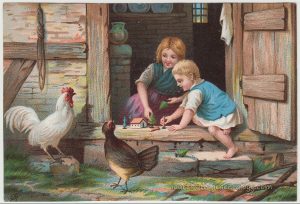 Card, lithograph with initials G.R. for artist, publisher or lithography company. Circa 1880s – 1890s.
Price:  $5.00        Size:  4and 3/4 x 3 and 1/4″

Here's some gorgeous color in the midst of a series of mostly black and white photos….A rooster and chicken attend two children at play on the doorstep of the children's cabin home; the wooden doorstep being the perfect place to set up the little toy house and trees and people….There is no advertisement or identifying writing on the back, but someone had loved this small lithograph. It was found in an antique store in Salinas, CA. The initials G. R. (or R. G.?) that we see in the lower left corner, may be for the artist, the publisher or the litho company, but we're betting they were for the artist.