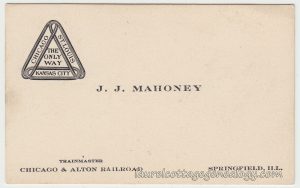 Business card. Circa 1900 – 1910, but see the comment below this post.
Price:  $15.00               Size:  About 3 and 5/8 x 2 and 1/4″
A nice piece of history involving the Chicago & Alton Railroad:  the business card for Trainmaster, J. J. Mahoney. What's a trainmaster you might ask? Here's a definition from the Houston Chronical:
"The railroad industry employs many professionals that ensure the safety of trains, their passengers and cargo. A trainmaster oversees the safe departure and arrival of trains at a specific train terminal. They work with yardmasters, conductors and engineers to ensure trains arrive and depart in a timely manner. While other railroad professionals work outside on the train or in the railway yard, trainmasters spend a large majority of their time indoors communicating with staff on the trains."
So, we did some web searching (per usual) for the full name of our trainmaster, but no luck. However, we did find him mentioned in the publication Railway Age Gazette, that was put out for the first half of the year, 1910:
"J. J. Mahoney, assistant superintendent of the Chicago & Alton at Bloomington, Ill., has been appointed superintendent of transportation of the Atchison, Topeka & Santa Fe, with office at Newton, Kan. The office of assistant superintendent of the Alton at Bloomington has been abolished."
And we'll add this post to our Unusual Occupations category, not that trainmaster is necessarily so unusual but rather in the probability that many (like myself until now) have never heard of this particular job title.
Sources:  Alton Railroad. n.d. https://en.wikipedia.org/wiki/Alton_Railroad (accessed September 22, 2017).
Michael, Elvis, "What Is A Railroad Trainmaster?" Houston Chronical. http://work.chron.com/railroad-trainmaster-20446.html (accessed September 30, 2017).
Railway Age Gazette, January 1 – June 30, 1910, Vol. 48, no. 13. p. 916. (Google eBook).