"It is Certainly Great Around

Weitzer, Colo.

But it Needs

You to Make it Heaven"
Gone but never forgotten…
This one was unexpectedly interesting because Weitzer, Colorado is no longer on the map. Thanks to COGenWeb which lists Colorado places by county, and their former names (if any).  Weitzer was located in the county of Otero, and was renamed Vroman in 1918, which would have been sometime in the calendar year after this postcard was sent. Vroman is located on U.S. Highway 50, about six miles west of Rocky Ford. Continuing about 47miles west on Highway 50 (from Vroman) is the city of Pueblo.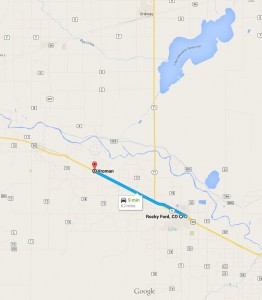 Name origin…
There is a Frederick Weitzer and family in 1900, living in Precinct 4, Rocky Ford, Otero County. Frederick was born April 1865 in Germany. His occupation was Manager of a Beet Sugar Factory. With him are his wife, Alma, born May 1875 in Iowa; and their daughter Eleanor, born Nebraska in 1899. Also in the household is domestic help Minnie Mauska, born May 1881 in Germany. Some more digging (no pun intended!) finds Frederick Weitzer as manager of the America Beet Sugar Company. A further search brings confirmation:  According to an article by Ruth M. Grenard:
"In 1891, a small original woodframed school building was constructed approximately 5 miles west of Rocky Ford. That location was near a railroad siding bearing the name Wietzer, the railroad siding having been named after Fred Wietzer, a former Manager of the Norfolk, Nebraska, sugar beet factory who subsequently became the first manager of the American Beet Sugar Company in Rocky Ford."  The article goes on to describe the various Weitzer and Vroman schools. But getting to the reason for the name change,  "The railroad siding name was also changed to Vroman, in honor of well-known land owners, agricultural promoters, and ranchers who came to the area in the 1870s. This change in name was also because of the political climate, in that a German name seemed less politically correct because of the involvement of our country in WWI."
Big with beets…
From the Denver Post, dated January 19, 1906,  "A formal contract has been drawn between committee and citizens of Las Animas and Frederick Weitzer, manager of the American Beet Sugar Company, whereby, in consideration of 2,500 acres of beets for the year 1906 and 5,000 acres for the years 1907, 1908, and 1909, to be grown in the vicinity of Las Animas, the American Beet Sugar Company agrees to construct a 600-ton beet-sugar factory here for the 1907 crop and to add a railroad spur from Las Animas east and west for a distance of about 10 miles each way. These spurs are to be connected with similar spurs built out of Lamar and Rocky Ford, thus forming a through line. All is to be completed by 1907. The American Beet Sugar Company is to provide a large bond to insure the construction of the road and fulfillment of its contact."
(U.S. Agriculture publication on the beet sugar industry.)
As for the sender of the postcard, they (name unreadable) wrote:
"8/13/17. Dear Ella. Just a few lines to let you all know that I am feeling Better at present. Hoping these few lines finds you all well. good By  [?]"
The card is another of the many in the Alice Ellison Collection, and addressed to  "Miss Ella Ellison, 1314 F St, Sacramento Calif."
No other postcards are showing up at the time of this post for Weitzer, Colorado, so this is a bit of a rare find, but any reasonable offer will be accepted. See the prior post for another from this same publisher.
Divided back, used postcard. Postmarked August 15, 1917 from Weitzer, Colorado. Publisher initials:  A.P.C. Company. Number or series 2106.
Price:  $25.00
Sources:  Colorado Places by County, W-Z. COGenWeb. Accessed March 2, 2015. [http://cogenweb.com/coplaces/city-wz.html]
Year: 1900; Census Place: Precinct 4, Otero, Colorado; Roll: 127; Page: 15A; Enumeration District: 0081; FHL microfilm: 1240127. (Ancestry.com)
Google map showing Vroman and Rocky Ford, Colorado. Google.com. Web accessed March 3, 2015.
Saylor, Charles F. Progress of the Beet-Sugar Industry of the United States in 1905. U.S. Dept. of Agriculture. p. 86. Web accessed March 3, 2015.
Grenard, Ruth M. "Rural Schools In The Rocky Ford Area Served A Great Need From 1871 On. Washington Primary School. Web accessed March 3, 2015. [http://washingtonprimary.cp.rfp.schoolinsites.com/?PageName=%27AboutTheSchool%27]