Old photo, circa 1906 – 1916.
Price:  $12.00         Size:  3 and 1/8 x 2 and 1/16″
Availability status:  ORIGINAL IS SOLD. Digital copies only are available.
We have a last name this time:  Wickson. And I thought at first that Berkeley was the surname or it was a marriage situation, Wickson marrying Berkeley, but no such records appear online. However, we do find Lucille M. Wickson, student in 1909, boarding at 2662 College Ave., Berkeley, California (and the palm tree in the background fits). Other records show Mildred Lucille Wickson was born November 17, 1890, daughter of George Guest Wickson, II and Mary Ellen Winter. She married Walter Reeve Woolpert, July 27, 1916.
I'm estimating that Lucille was at least age 16 when this photo was taken. A fashion expert would no doubt be able to narrow down the time frame. Note that she wears both a large hair bow and a hat. But, easy to miss – she's holding some daisies in her left hand. (It's the little things that really bring the moment to life!)
Below, the announcement of Lucille's upcoming nuptials from The San Francisco Examiner, July 22, 1916: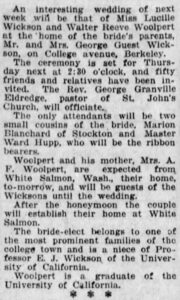 Sources:  Husted's Oakland, Berkeley and Alameda Directory, 1909. p. 1214. (Ancestry.com).
"East Bay Society Notes." The San Francisco Examiner, July 22, 1916. Saturday, p. 7. (Newspapers.com).
Ancestry.com. California, U.S., Death Index, 1940-1997.