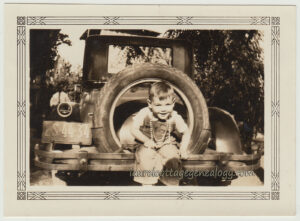 Old photo, decorative border, 1929.
Price:  $5.00          Size:  About 3 and 7/8 x 2 and 7/8″

Well, we know the place and year of this photo from the easily read license plate. (A definite departure from the usual norm of trying to "will" a plate into focus. 🙂 )
It's an Art Deco design that frames this cute shot of a little boy sitting inside the upright spare (Goodyear) tire. He's in overalls and wearing a couple of strands of beads, with a big smile and clutching something in one chubby hand. An adult, probably his dad, is in the background. As for the car – Model T Coupe? We'll have to check with our go-to site for car questions, Antique Automobile Club of America. There is no writing on the back (though from a genealogy standpoint we feel like we're looking at somebody's grandpa, with great-grand in the back) but it's a nice slice of Americana – back when the family car was also one of many play destinations for the kids.