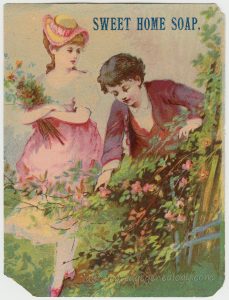 Trade card, circa 1880s – 1890s.
Price:  $3.00          Size:  About 3 and 1/4 x 4 and 5/16″

Young love in an old trade card
Here's a trade card, a little worse for wear, but still….a beauty:  depicting a lovers' scene of a young man cutting roses for his sweetheart (or maybe clearing a path for her, or both).
From small cake soap manufacturer to industry giant
Buffalo, New York native John Durrant Larkin (1845 – 1926) was the founder of J. D. Larkin & Co., manufacturer of Sweet Home Soap, a bar laundry soap, and with the help of the marketing genius of his brother-in-law Elbert Hubbard (1856 – 1915), became one of Buffalo's most successful businessmen. Hubbard is reported to have been Larkin & Co.'s first salesman, and pioneered the strategy of selling direct to the consumer, thereby cutting costs to be able to offer many incentives to buying the company's products (which became numerous, a "laundry list," pun happily intended, of household, food and other items). These incentives or "premiums" as they were called, were first small enough to be included with the customer's order, until the idea was expanded to include the redemption of beautiful pieces of furniture, as well as pottery and glassware, lamps, bed frames and other items.
Below, a clipping from a Google search for Larkin & Co furniture: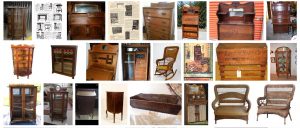 Glove buttoners and biscuit cutters
Below, a clipping from an 1888 ad appearing in The Appleton Crescent, listing the bonus items one could get, along with 100 cakes of Sweet Home Soap. We're wondering if any of the pictures mentioned titled, "Desdemona", "Skye Terrier", "Jockey Joe", "Love's Young Dream" etc. still grace any walls today. Then too, when we look at the artwork in the average working family's home, as in….after gazing at our ancestor's photo, then looking past them to see what was in those picture frames (if we can see, sometimes it's just barely, and always to the point of wanting to jump in the photo for a moment)….we can imagine what might have been the humble soap origin of that prized piece of wall decor (as in our related post, The Village Belle.)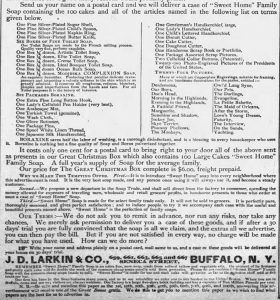 Factory girls in '04

Below, a photo courtesy of the Buffalo Courier, May 29, 1904 of Larkin factory girls packing products (and if your ancestor worked in Buffalo for Larkin's it's rather nice to think that she might be one of these ladies.) Last thought:  Are those wreaths hanging on the pillars?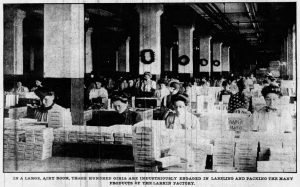 Sources:  John D. Larkin. n.d. https://en.wikipedia.org/wiki/John_D._Larkin (accessed May 6, 2018).
Elbert Hubbard. n.d. https://en.wikipedia.org/wiki/Elbert_Hubbard (accessed May 6, 2018).
"images of Larkin & Co. furniture."  Google.com search. (accessed May 6, 2018).
"Twin Babies" Larkin ad. The Appleton Crescent (Appleton, WI). November 24, 1888, Saturday, p. 4.
"One of Buffalo's Most Successful Manufacturers."  Buffalo Courier, May 29, 1904. Sunday, p. 2. (Newspapers.com).