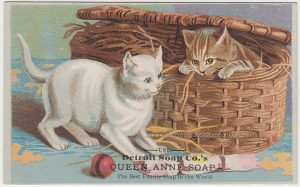 Trade Card. Detroit Soap Company. Circa 1871 – 1890s.
Price:  $7.00       Size:  4 and 9/16 x 2 and 13/16″

"Use Detroit Soap Co.'s Queen Anne Soap. The Best Family Soap in the World."
This is the third trade card that we've found so far, for Queen Anne's Soap and the Detroit Soap Company. See the prior post for the second.