Divided back, unused. French postcard. Circa 1917 – 1925.
Price:  $15.00
This one definitely ties in to the previous post:  An old French postcard in black and white, of a painting by N. George of Chief Deskaheh, the president of the Iroquois Council of Six Nations from 1917 – 1925:
"Le grand Chef Deskaheh. Délégué et président du Conseil des Six Nations Iroquoises."
See the Wiki entry on Deskaheh or Levi General (1873 – 1925) which includes the photo below taken 1922. The painting shown on our postcard greatly resembles the photo  (courtesy Wikipedia, originally from the British newspaper The Graphic) so may have been created around the same time.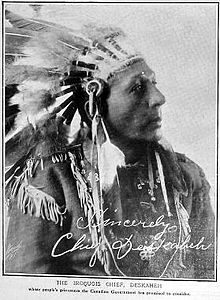 See The Last Speech of Deskaheh for more.
But since we like to solve mysteries here, who was the artist (peintre or painter) N. George?  Hmmm, for now, this question remains a mystery. Below, an article from the Pittsburg Daily Post dated December 17, 1922.
Sources:  Deskaheh. n.d. https://en.wikipedia.org/wiki/Deskaheh (accessed June 4, 2016).
The Last Speech of Deskaheh. Two Row Times. (accessed June 4, 2016).
"Protests Raid of Old Domain." Pittsburg Daily Post. Sunday, December 17, 1922. p. 1 (newspapers.com)