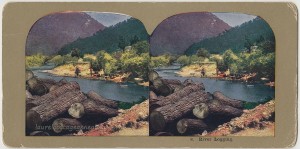 Stereograph, colored scene of Northwest river logging. Circa 1910s.
 Price:  $5.00        Size:  7 x 3 and 1/2″
This card, showing what is most likely a Pacific Northwest river logging scene, was found in an antique store in Dearborn, Michigan. What is significant about it is that it solves a minor mystery on another post (The Conversation)  as a partial, pretty beat-up looking stereograph (also called stereogram, stereoptican, or stereo view) showing the same scene of the girl on the pony and the boy, the mountains in the background, etc. was found in a drawer next to this one above. And actually, the torn card was meant to be picked up along with a bunch of other stuff, but somehow got missed. Next time I am in the area I will check to see if it is still in that drawer, just for fun.