Trade card for Joseph Chartrand, Montréal, Canada. Circa 1885 – 1886.
Price:  $15.00             Size:  2 and 1/2 x 3 and 7/8″

Not in good shape but rare… 
There may be other Jos. Chartrand cards that survived (note artist's initials at bottom left) but at the time of this post, none are showing online. The front shows a beautiful, evidently popular girl, receiving a letter and flowers from yet another devotee, who delivers his heartfelt admiration in person. (Or is he just the messenger?)  It's a summery scene, certainly not in line with our current month of December, but the back of the card (Oh, to be able to go back in time and shop at this store) advertises, among other things, a couple of items needed for travel in snow. It reads:
"Jos. Chartrand, (Late with F. X. Brazeau & Co.) Dealer in Indian Curiosities, Snow – Shoes, Toboggans, Lacrosse, Mocassins, Bark Canoes, Bead Work, also Childrens Toys. 1687 Notre Dame Street, Montreal."
F. X. Brazeau & Co.
F. X. (François-Xavier) Brazeau & Co. was found mentioned under the heading of "Indian Manufactures" in the Sixth Parliamentary Sessional Papers for the Dominion of Canada, year 1887.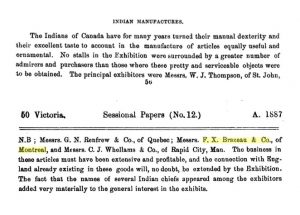 Joseph Chartrand
We next found mention of Joseph Chartrand, "dealer in fancy goods, etc." in a January 1886 publication of The American Stationer. Whether this was the same Notre Dame Street business as on our trade card is unknown, and it may not have been. That Chartrand "made an assignment" (a frequently occurring term in 19th century newspapers) seems to indicate he was having financial problems as in General Assignment or Assignment to the Benefit of Creditors (ABC) an alternative to bankruptcy. Not fun….but, nothing ventured, nothing gained, right? (We hope he fared well in subsequent endeavors and in general had a wonderful life.)

Sources:  Sessional Papers, Volume 10. First Session of the Sixth Parliament of the Dominion of Canada. Session 1887, Volume 20. Report of Sir Charles Tupper, G. C. M. G., C. B., Executive Commissioner, of the Canadian Section of the Colonial and Indian Exhibition at South Kensington, 1886. Ottawa:  Printed by MacLean, Roger & Co., Parliamentary Printers. Wellington Street. 1887.  pp. 56 and 57. (Google Books).
"Trade Gossip." The American Stationer, Vol. 19, no. 3. January 21, 1886. p. 69. (Google Books).
General assignment. n.d. https://en.wikipedia.org/wiki/General_assignment. (accessed December 1, 2016).