Divided Back, Real Photo Postcard, circa 1907 – 1910. Photographer:  Fred A. Grinolds. CYKO stamp box.
Price:  $15.00
"These two girls came 3 miles last Sunday to have me take their picture they are both Swedes and are engaged to be married soon they cant talk very good English yet write me if you are coming to Cal"
I think these ladies may be sisters, there seems to be a definite resemblance. Don't you love the hats? In particular, I love the long cloak of the woman on our left, with that double row of decorative buttons. Too bad the photographer didn't include their names in the above note. But still, we appreciate the fact that he did write a description, and we appreciate the sense of occasion  it would have been for the women, Swedish immigrants, both engaged to be married.
As for the photographer, he was Fred Albert Grinolds, born in Oil City, Pennsylvania, March 2, 1879, mother's maiden name Swartz. Fred must not have been in the photography business for very long:  November 15, 1911, he married Elba Vera Lovelass in Marshfield, Coos County, Oregon, his occupation given as "ratchet setter" (at a sawmill). By the 1918 WWI Draft Registration, he was working as a millwright at the Old Dominion Company (a copper mining operation) in Globe, Arizona. Nothing was found for him online under the photographer heading, but it sounds like this would have been in California, before he got married. He and Edna had two daughters, Edna and Bertha. Below is Fred's obit found in The Modesto Bee, August 22, 1960: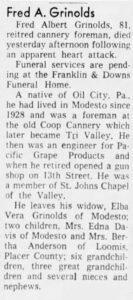 Sources:  "California Death Index, 1940-1997," database, FamilySearch (https://familysearch.org/ark:/61903/1:1:VPWR-WK9 : 26 November 2014), Fred A Grinolds, 21 Aug 1960; Department of Public Health Services, Sacramento.
Year: 1910; Census Place: Newport, Coos, Oregon; Roll: T624_1280; Page: 10B; Enumeration District: 0052; FHL microfilm: 1375293.
Registration State: Arizona; Registration County: Gila County. Ancestry.com. U.S., World War I Draft Registration Cards, 1917-1918.
"Fred A. Grinolds." The Modesto Bee, August 22, 1960. Monday, p. 10. (Newspapers.com).