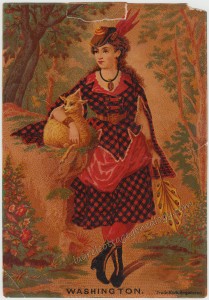 A beautiful red-haired lassie in Rob Roy MacGregor-Black (?) plaid skirt and jacket, and a tam-o-shanter with red wings, holds a peacock feather-designed fan. She is posed standing on a path in the forest, with her arm draped protectively around a lamb, who rests just next to her on a grassy ledge. Girl and lamb are looking off to their right. The design ends up to be a little comical – it appears that the lamb wears a little pointed hat (!) but really that is just the bonny lassie's arm showing through her sleeve – her long sleeves being slit almost up to the shoulder. Very stylish!
At the bottom of this Victorian Era trade card is the wording:   "Washington. Trade Mark Registered."  What this refers to is a mystery:  coffee, flour, fabric, cough syrup…who knows? Breed of sheep? Was it one of maybe a series of cards for each state? Nothing was found to enlighten us yet, so it will go into the mystery category!
Victorian Era trade card. Washington registered trade mark. Circa 1880s – 1890s. Condition:  Poor, regrettably, due to top middle piece having become torn away from the whole; creases in top and bottom left corners; top right corner missing.
Size:  4 and 1/2 x 6 and 1/2″
Price:  $10.00