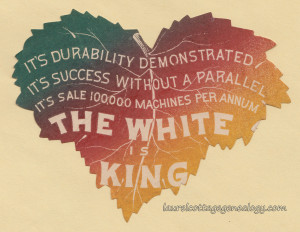 Trade card in leaf shape for White Sewing Machines. Circa 1886.
Price:  $20.00        Size:  About 3 x 4″
Beautiful leaf trade card in shades of green, red and gold, for White Sewing Machines. This is the second trade card for White appearing on this website. The wonder of it though, is how this paper leaf survived this amazingly well through the years, only showing a small fold on the right-hand side. (The card is the leaf itself; the yellow background was just for scanning purposes.) The White was immensely popular, with it's factory in Cleveland at 10 and 40 Canal St. and sales office at 57 and 59 Euclid Ave. The company shipped not only all over the United States and Canada, but also had a large overseas market. The statement here of 100,000 machines being sold yearly would be the best clue as to this card's date. A couple of old publications help to somewhat define the time-period. An 1879 issue on Cleveland Industry states "from July 1876 to the eve of 1878, the demand for the White Sewing Machine has increased from ten or twelve per day to one hundred and fifty or two hundred per day…"  An 1886 publication on Cleveland manufacturers and merchants states that the factory on Canal St. was a "substantial building, nearly 500 feet long, 50 feet wide, and four to six stories high, with a capacity of manufacture of three hundred sewing-machines per day."  So, perhaps this card was printed somewhere around year 1886.
Sources:  Industries of Cleveland:  Trade, Commerce and Manufactures for the Year 1878. Published by Richard Edwards, Cleveland, 1879. Pages 107-108. (Google eBooks)
Leading Manufacturers and Merchants of the City of Cleveland and Environs. A Half Century's Progress. 1836-1886. International Publishing Co., 102 Chambers St., New York, Boston, Cincinnati and Chicago. Page 76. (Google eBooks)